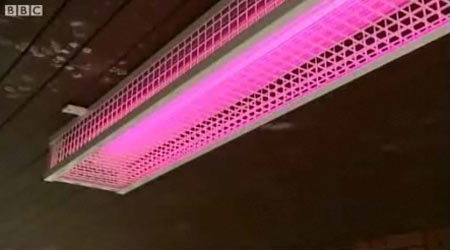 Here's the latest entry in the "grownups are all bastards" file.

Residents of a Nottinghamshire housing estate have installed pink lights which show up teenagers' spots in a bid to stop them gathering in the area.
And:

Yobs are being shamed out of anti-social behaviour by bright pink lights which show up their acne.
The lights are so strong they highlight skin blemishes and have been successful in moving on youths from troublespots who view pink as being "uncool."
…
Manager Dave Hey said: "With the fluorescent pink light we are trying to embarass young people out of the area. "The pink is not seen as particularly macho among young men and apparently it highlights acne and blemishes in the skin.
(from this BBC story)
Nice, huh?
SPEAKING OF PINK
Stay tuned until tomorrow, when I shall reveal the cover of my next book! It is PINK and it is MADE OF AWESOME.